Less time loading, more time riding.
World Leading Vertical Bike Racks
A Rack For Every Adventure

The new Single Trail SL Bike Rack is an entry level, hitch mounted vertical bike rack that includes all of the great features you are accustomed to in our racks.  Available in the SL100 and SL150 range.
Compatible with Kids & BMX up to 29″ Bikes
35kg Bike Capacity
Designed, engineered, built in Australia
Lifetime warranty
No frame or fork contact
Patented SL Rope Fastening System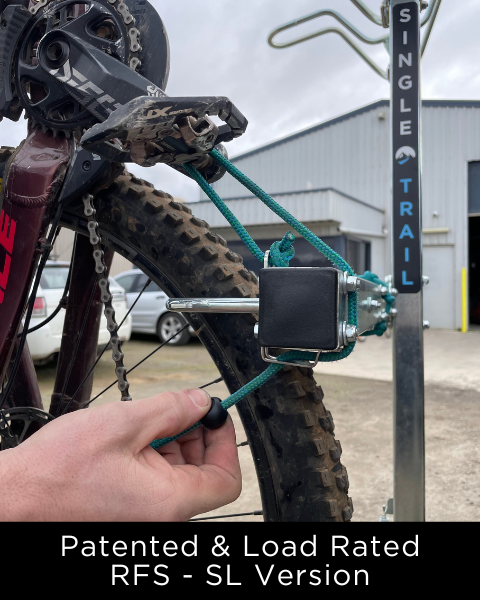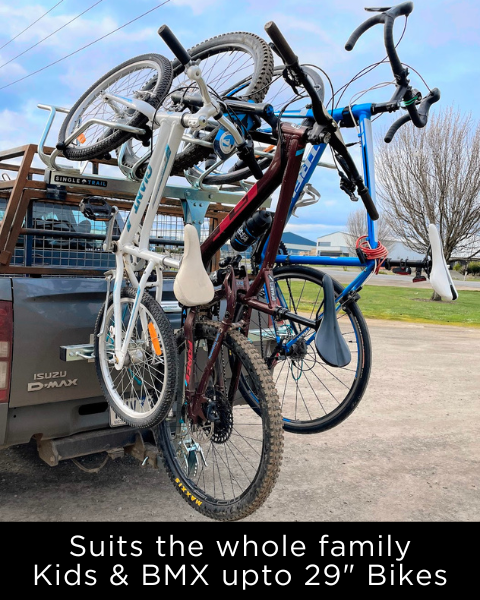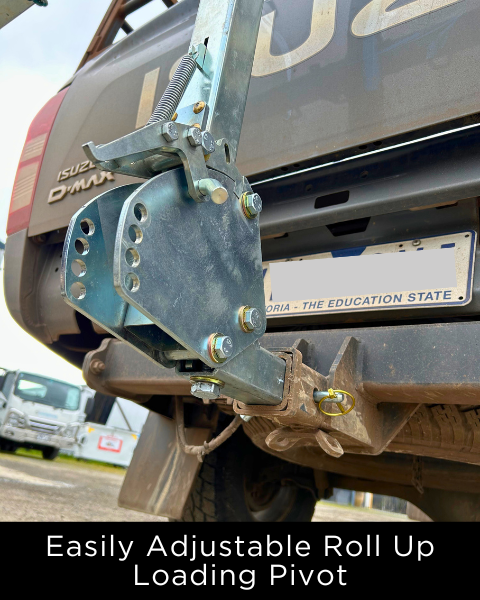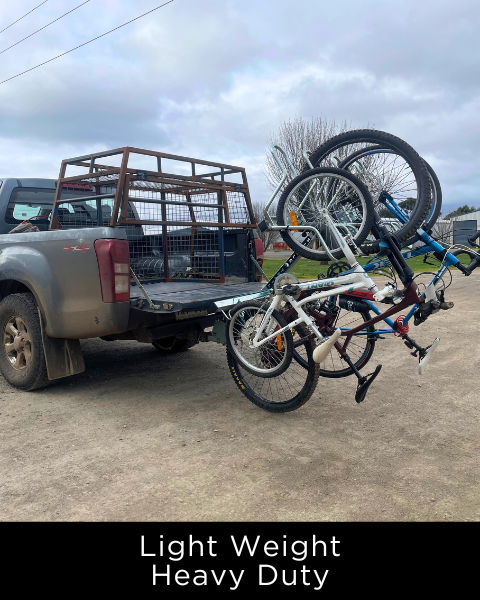 Secure Against Bungee Bike Damage
Marine-grade rope holds fast at 1.7ton load for bike to rack fusion.
Sick of spending more time loading bikes than just getting on with your shuttling. Our Patented Rope Fastening System is the quickest and most secure way of shuttling bikes. It uses load rated, marine grade rope tied simply around the crank along with our specially designed wheel baskets with a geometry that locks the front wheel in. It's so good that Blue Dirt Shuttles has incorporated our trailers into their fleet – trusted to shuttle 1000's of bikes along rough roads – no more losing bikes off trailers!
Read more about the features of our vertical bike racks.
Integrated Anti-Wobble
Our world's first innovation is the integrated anti-wobble mechanism. We've done away additional bolts and plates and integrated an anti-wobble system into our vertical bike racks.
Using a heavy duty bolt and engineered nut plate simply do it up and you'll remove most slop and sway, making it ready to take on those sketchy trail runs.
No bike to bike contact. Extra-wide 350mm spacing between bikes also separates each bike, keeping handlebars and brake levers away from top tubes.
V3 Pivot for Standard RFS Racks
Our standard pivot system, V3, has 3 auto locking travel positions that are easily set by pressing the foot pedal.
This provides simple adjustments when loading your bike rack on any car, ute or van and gets the rack as close to the rear of your vehicle as possible.
It's a super clever, tool-free Single-Trail innovation that's simple to operate and reliably locks in place.
Additionally, the rack will lay horizontal to the ground for easy boot access. No bike to bike contact, easy access to your boot or tray with our redesigned V3 pivot.
EZ Load V3 Pivot for EZ-RFS Racks
Our newest pivot option with an upright and forward travel position and a rear leaning (30 degree) roll up loading position. It makes for easier loading of your bikes with no lifting required.
The pivot is adjusted using the simple foot pedal to release the auto locking system and can lay the rack to the ground for easy boot access.
It's a super clever, tool-free Single-Trail innovation that's simple to operate and reliably locks in place.
Super Swing Arm for Super RFS Racks
Accessing the rear of any vehicle just got easier.
The super swing arm has a single touch, tilt & swing opening that fully clears the rear of cars, utes and vans.
It's built tough so you can carry up to 150kg worth of bikes no worries.
We'll almost guarantee it'll fit the rear of any vehicle with multiple points of adjustability along with customisable side plates and tongue tube extensions available on purchase.
Full E-Bike Compatibility
Whether you're carrying weight-conscious carbon enduro bikes or cumbersome e-bikes, we've got your back.
Each wheel basket has been engineered to carry up to 30kg per bike, the critical component in the rack's integrity.
The tongue and pivot are also made from premium Bisalloy, making it extremely robust where it's needed most. So load up and travel in confidence with our range of vertical bike racks.
Single Trail For Life Warranty
At Single Trail, we are committed to products with leading design and engineering innovation standards. Our priority is to continue evolving our range to enhance usability and longevity and we will stand behind your decision to shop with us.
Single Trail for Life is a limited lifetime warranty on the structure of each Single Trail vertical bike rack and swing-arms to the original purchaser. This includes the rope in our rope fastening & our integrated anti-wobble.
Refer warranty page for more details and exclusions.

Our innovative patent technology makes our racks a cut above the rest. We get you to the trails faster without sacrificing the safety and security of your bike.
Straightforward >>
Straightforward
Our products are designed to be intuitive and easy to use. Smart technology, not fiddly, time-consuming or confusing. We've simplified and improved all the key features to a vertical bike rack – installation, loading, boot access and securing bikes.
Secure >>
Secure
We set out to provide users with a sense of confidence in the life of the product and the protection of everything they carry. With the most secure rope fastening system and integrated anti-wobble, tested for thousands of kilometers across a variety of road conditions, your bikes are protected everywhere you go.
Robust >>
Robust
RFS Bike Racks unique design delivers reliable security and protection for everything they carry, whatever the terrain or weather conditions. Designed, engineered and fabricated in house and backed by a lifetime warranty.
Buy with Absolute Confidence
Use our calculator to ensure you get the right rack for your car.

The trails are Four simple steps away
Competitive retail rates to support local shops
For a group of mates or Providing Endless Shuttles
For a group of mates or Providing Endless Shuttles